26 Weeks pregnant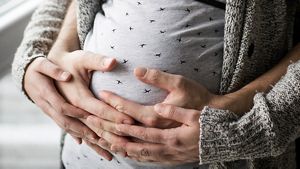 Brain food
In your 26th week of pregnancy, your baby is entering a stage of significant physical growth and brain development. Your balanced diet should include good sources of the long chain polyunsaturated fatty acid (LCP) DHA to support this rapid brain development.
Your baby's development at 26 weeks
Getting ready for your baby's birth
As your baby starts to prepare for birth, it's a good idea for you to do the same. Now's the time to start thinking about your birth plan, what you might want to pack for the hospital and what sort of pain relief you'd be comfortable with when you go into labour.
If you haven't already told your employer that you'll be going on maternity leave, you should do it now, as you need to give them at least 15 weeks' notice. Find out more about your rights and what you're entitled to at direct.gov.uk, or for help and advice visit WorkSmart and search for 'maternity leave'
LCPs on the brain
Long chain polyunsaturated fatty acids (LCPs) are a group of special fatty acids. Two of the most significant LCPs for your baby's development are called DHA and AA, which are part of the Omega 3 and Omega 6 groups of fats3.
DHA has been shown to contribute to your baby's brain and eye development and is important for your baby's visual development throughout their first year of life4.
DHA continues to support your baby's brain development after birth when it's passed on through your breast milk5.
LCP Research
Experts have reviewed the evidence relating to LCPs in pregnancy and found that mums who took extra DHA in the latter half of pregnancy reduced their risk of preterm delivery and increased the birthweight of their babies6,7.
Good fat facts
It's important to make sure your balanced diet includes good sources of LCPs, particularly DHA, while you're pregnant and once your baby is born, too.
Experts recommend including an extra daily dose of 100-200mg DHA during pregnancy and lactation8. However, food sources of DHA are limited to oily fish, fish oils and offal, some of which are on the list of foods to avoid or limit during pregnancy, particularly liver.
For a healthy intake of LCPs including DHA, aim to eat 1–2 portions of oily fish, such as mackerel, sardines, fresh tuna and salmon, per week. Avoid eating more fish than this due to the levels of pollutants and mercury they may contain.
If you don't like the idea of eating oily fish be sure to include some other sources of Omega 3 fats in your diet such as nuts, seeds, dark green vegetables, rapeseed oil, wholegrain cereals and soya products9.
Next steps
Try these pregnancy meal and snack ideas which provide Omega 3 fats:
Mackerel on a slice of wholegrain toast
Grilled salmon with steamed vegetables
Waldorf salad made from apples, celery and walnuts
Salmon fishcakes with a baby spinach salad
A handful of nuts and seeds
A bowl of wholegrain cereal
A soya milk fruit smoothie
View references
1. Murkoff H, Mazel S. What to Expect When You're Expecting. 4th ed. London: Simon & Schuster Ltd, 2009. p. 261.
2. Deans A. Your New Pregnancy Bible, The experts' guide to pregnancy and early parenthood. 4th ed. London: Carroll & Brown Publishers Limited, 2013. p. 43.
3. Brenna JT, Lapillonne A. Background paper on fat and fatty acid requirements during pregnancy and lactation. Ann Nutr Metab 2009;55(1-3):97-122.
4. European Food Safety Authority Panel on Dietetic Products, Nutrition and Allergies. Scientific opinion: DHA and ARA and visual development. EFSA Journal 2009;941:1-14
5. Sherry CL, Oliver JS, Marriage BJ. Docosahexaenoic acid supplementation in lactating women increases breast milk and plasma docosahexaenoic acid concentrations and alters infant omega 6:3 fatty acid ratio. Prostaglandins Leukot Essent Fatty Acids 2015;95:63-9.
6. Carlson SE et al. DHA supplementation and pregnancy outcomes. Am J Clin Nutr 2013;97(4):808-15.
7. Imhoff-Kunsch B et al. Effect of n-3 long-chain polyunsaturated fatty acid intake during pregnancy on maternal, infant, and child health outcomes: a systematic review. Paediatr Perinat Epidemiol 2012;26(1):91-107.
8. EFSA Panel on Dietetic Products, Nutrition, and Allergies (NDA); Scientific Opinion on Dietary Reference Values for fats, including saturated fatty acids, polyunsaturated fatty acids, monounsaturated fatty acids, trans fatty acids, and cholesterol. EFSA Journal 2010;8(3):1461.
9. Gandy J (ed). Manual of Dietetic Practice. 5th ed. Oxford: Wiley Blackwell. 2014. p. 759.
Questions about feeding and nutrition?
Our midwives, nutritionists and feeding advisors are always on hand to talk about feeding your baby. So if you have a question, just get in touch.