All Aptamil Baby Milks, Specialist Formula Milks and Cereals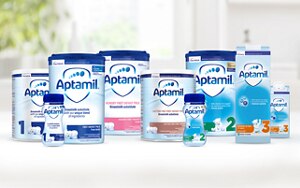 All Aptamil Baby Milks, Specialist Formula Milks and Cereals
Discover our ranges
Baby milks, cereals and more

Inspired by our research in early life science our range of formula milks and cereals have been especially developed for babies and toddlers.
Product finder
Quickly find the right food products for your baby
We have
product
products
matching your search
Our guide to baby formula milk
Discover what baby formula is, explore the different formats available, and choose the right one for your baby.
Learn about formula milk
Quality guarantee
We are devoted to providing you & your baby our very best. We do not produce for any supermarket own-label brands.
Find out more about our commitments to high quality
Important notice
Breastfeeding is best. Infant milk is suitable from birth when babies are not breastfed. Follow-on milk is only for babies over 6 months, as part of a mixed diet and should not be used as a breastmilk substitute before 6 months. We advise that the use of formula milks and the decision to start weaning should be made only on the advice of a doctor, dietitian, pharmacist or other professional responsible for maternal and child care based on baby's individual needs.
Use Growing Up Milk as part of a varied, balanced diet from 1 year.