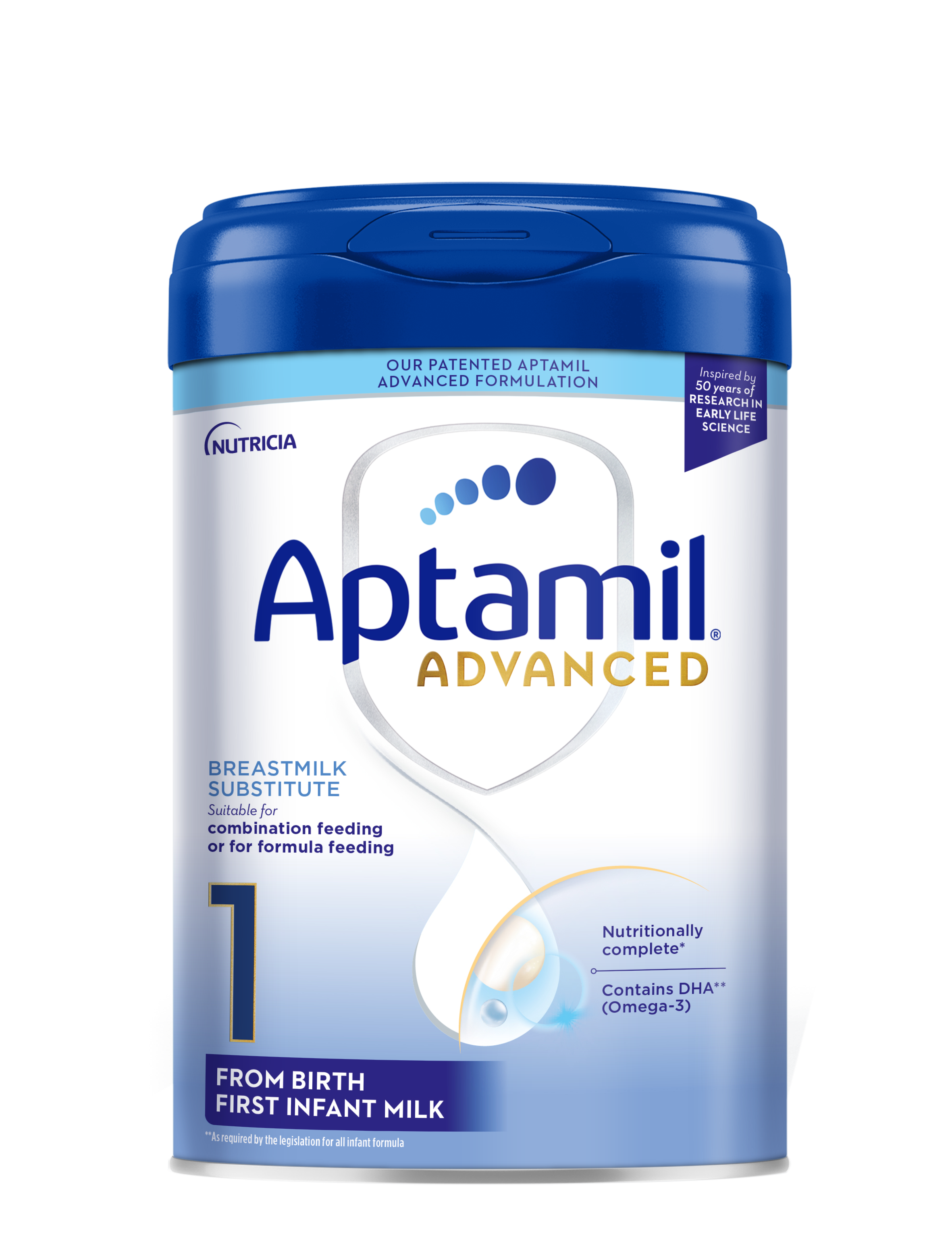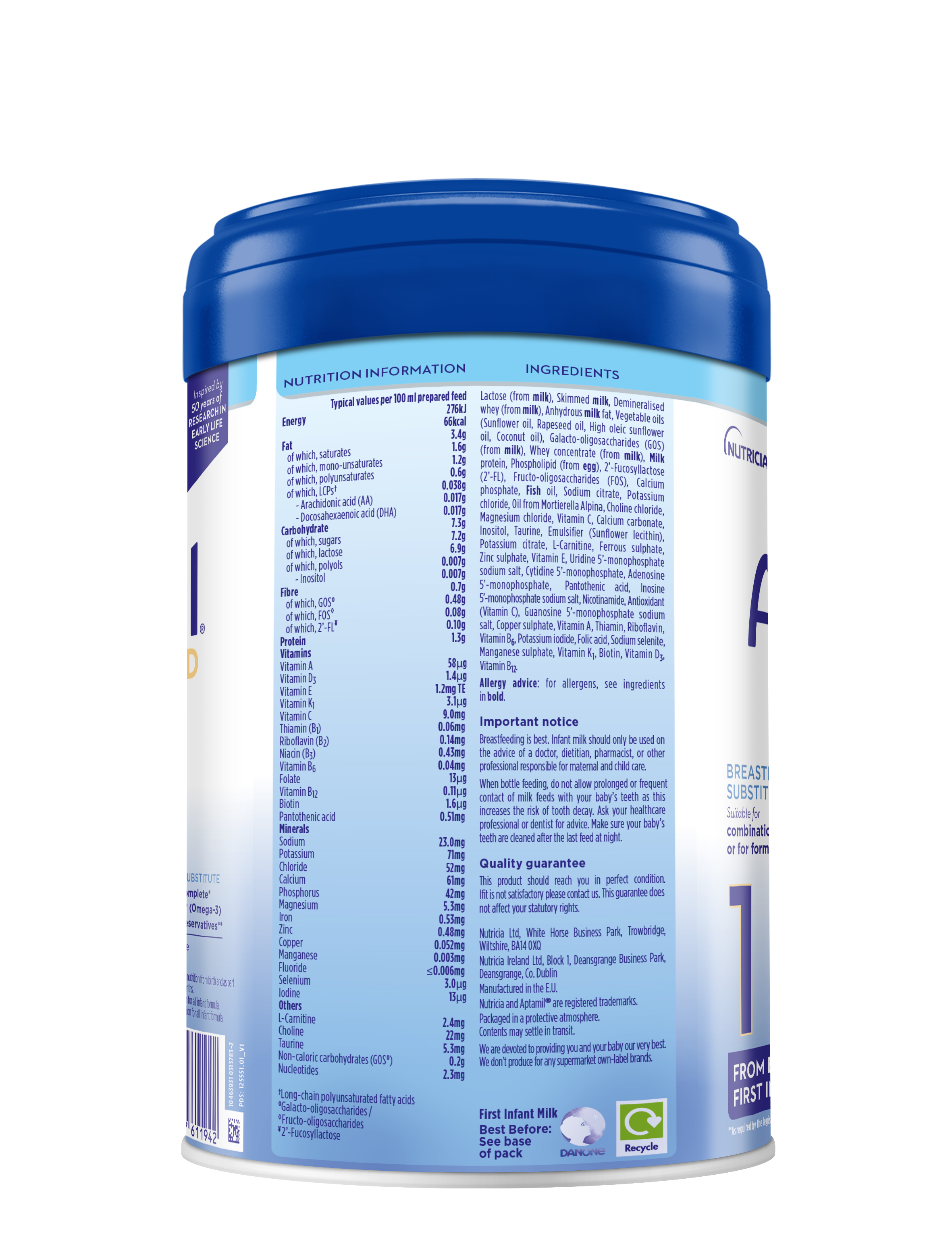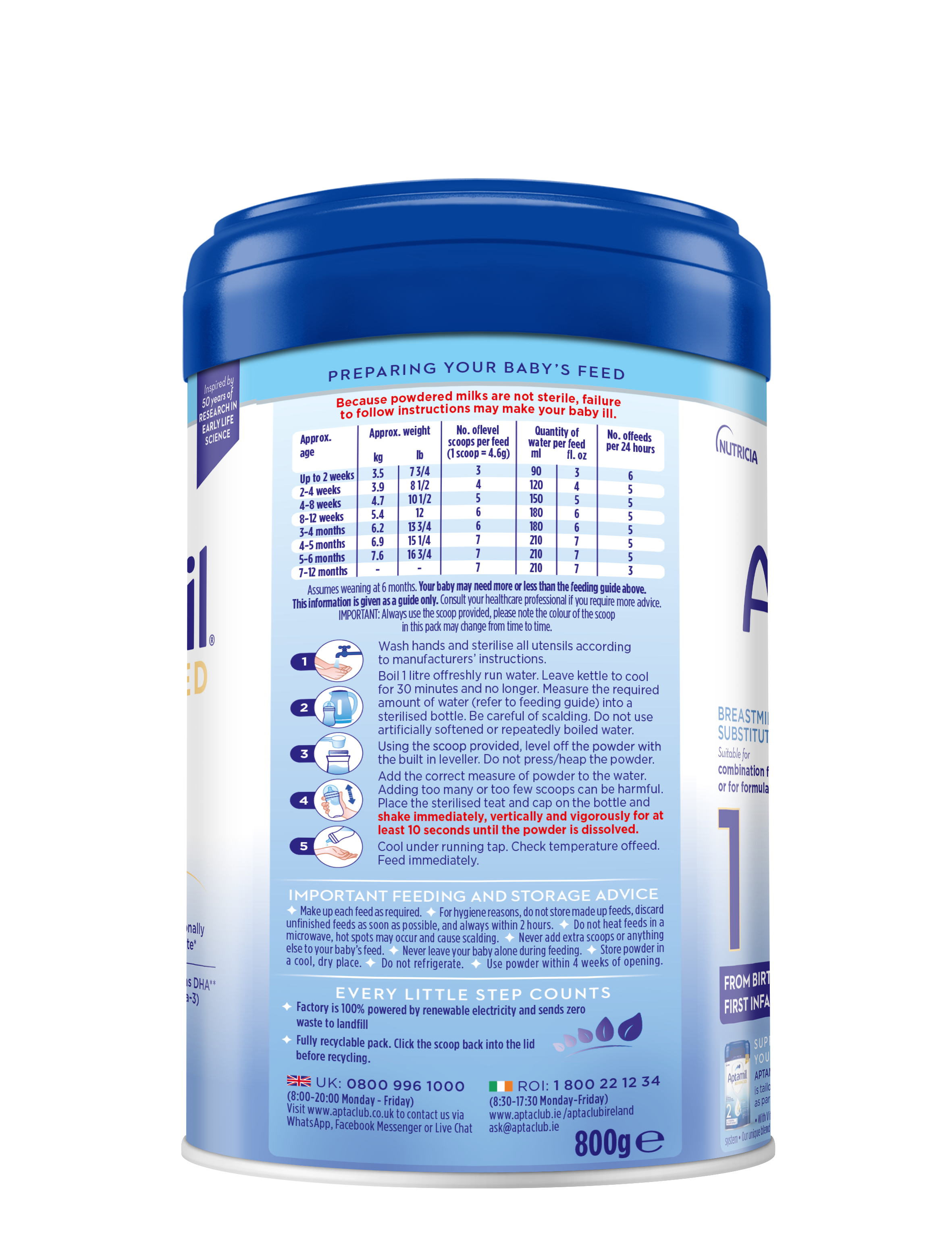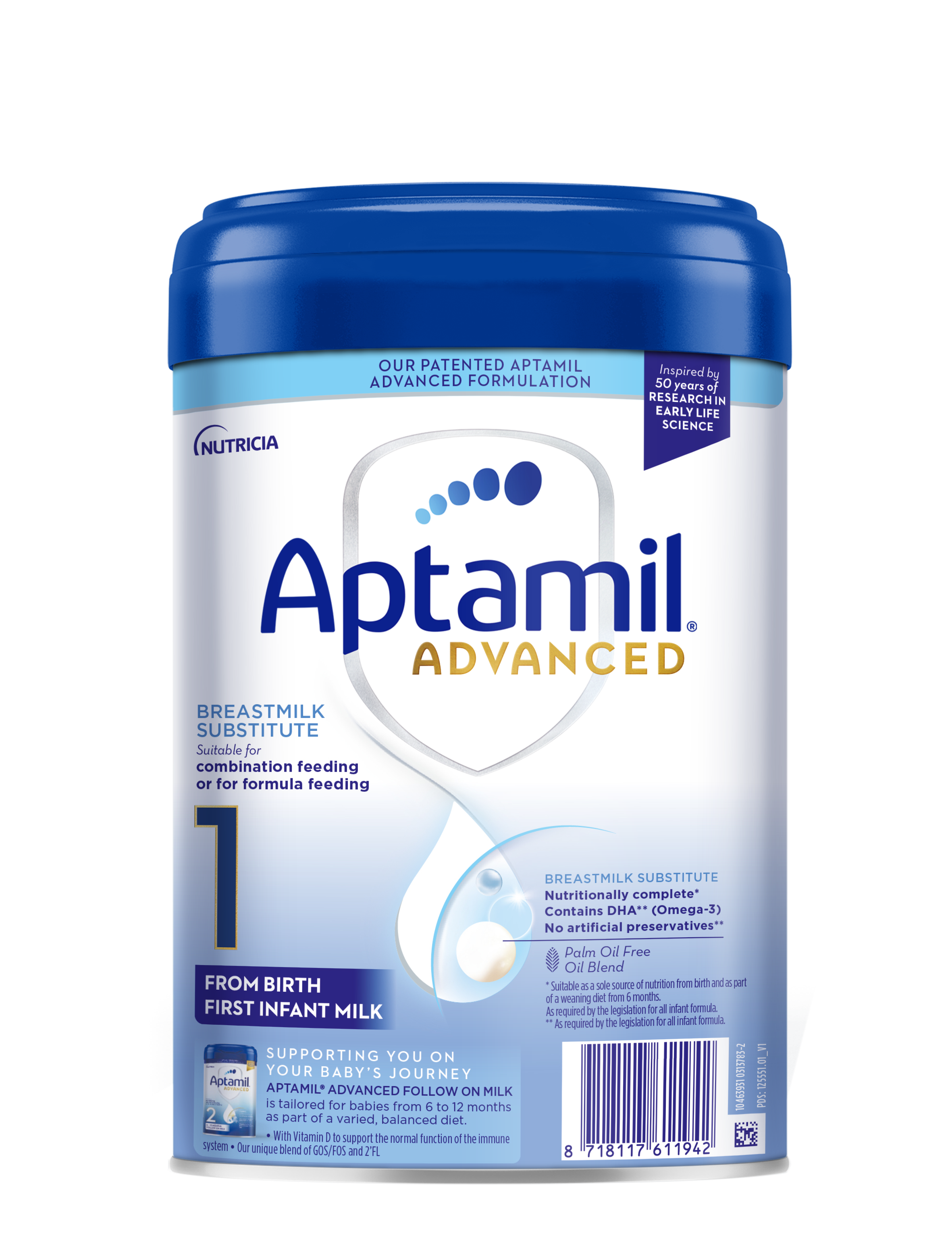 Aptamil® Advanced First Infant Milk 800g
Inspired by 50 years of research in early life science, our team of scientists have developed Aptamil® Advanced First Infant Milk. It is nutritionally complete, as required by the legislation for all infant formula, and suitable as the sole source of nutrition from birth, and as part of a weaning diet from 6 months.
Lactose (from milk), Skimmed milk, Demineralised whey (from milk), Anhydrous milk fat, Vegetable oil (Sunflower oil, Rapeseed oil, High oleic sunflower oil, Coconut oil), Galacto-oligosaccharides (GOS) (from milk), Whey concentrate (from milk), Milk protein, Phospholipid (from egg), 2'-Fucosyllactose (2'-FL), Fructo-oligosaccharides (FOS), Calcium phosphate, Fish oil, Sodium citrate, Potassium chloride, Oil from Mortierella Alpina, Choline chloride, Magnesium chloride, Vitamin C, Calcium carbonate, Inositol, Taurine, Emulsifier (Sunflower lecithin), Potassium citrate, L-Carnitine, Ferrous sulphate, Zinc sulphate, Vitamin E, Uridine 5'-monophosphate sodium salt, Cytidine 5'-monophosphate, Adenosine 5'-monophosphate, Pantothenic acid, Inosine 5'-monophosphate sodium salt, Nicotinamide, Antioxidant (Ascorbyl palmitate), Guanosine 5'-monophosphate sodium salt, Copper sulphate, Vitamin A, Thiamin, Riboflavin, Vitamin B6, Potassium iodide, Folic acid, Sodium selenite, Manganese sulphate, Vitamin K1, Biotin, Vitamin D3, Vitamin A, Vitamin B12.
Allergy advice: For allergens, see ingredients in bold.
Typical values per 100ml prepared feed

Energy

276kJ/66kcal

Fat    

3.4g

of which, saturates

1.6g

of which, mono-unsaturates

1.2g

of which, polyunsaturates

0.6g

of which, LCPs†

0.038g

- Arachidonic acid (AA)

0.017g

- Docosahexaenoic acid (DHA)

0.017g

Carbohydrate

7.3g

of which, sugars

7.2g

of which, lactose

6.9g

of which, polyols

0.007g

- Inositol

0.007g

Fibre    

0.7g

of which, GOS°

0.48g

of which, FOS?

0.08g

of which, 2'-FL¥

0.10g

Protein

1.3g

Vitamins

Vitamin A

58µg

Vitamin D3

1.4µg

Vitamin E

1.2mg TE

Vitamin K1

3.1µg

Vitamin C

9.0mg

Thiamin (B1)

0.06mg

Riboflavin (B2

0.14mg

Niacin (B3)

0.43mg

Vitamin B6

0.04mg

Folate

13µg

Vitamin B12

0.11µg

Biotin    

1.6µg

Pantothenic acid

0.51mg

Minerals

Sodium

23.0mg

Potassium

71mg

Chloride

52mg

Calcium

61mg

Phosphorus

42mg

Magnesium

5.3mg

Iron

0.53mg

Zinc

0.48mg

Copper

0.052mg

Manganese

0.003mg

Fluoride

≤0.006mg

Selenium

3.0µg

Iodine

13µg

Others

L-Carnitine

2.4mg

Choline

22mg

Taurine

5.3mg

Non-caloric carbohydrate (GOS°)

0.2g

Nucleotides

2.3mg
†Long-chain polyunsaturated fatty acids
°Galacto-oligosaccharides
◊Fructo-oligosaccharides
¥ 2'-Fucosyllactose
How to prepare Aptamil® Advanced First Infant Milk
Please follow these instructions carefully.  Because powdered milks are not sterile, failure to follow instructions may make your baby ill.
Step 1

Wash hands and sterilise all utensils according to manufacturers' instructions.
Step 2

Boil 1 litre of freshly run water. Leave kettle to cool for 30 minutes and no longer. Measure the required amount of water (refer to feeding guide) into a sterilised bottle. Be careful of scalding. Do not use artificially softened or repeatedly boiled water.
Step 3

Using the scoop provided, level off the powder with the built in leveller. Do not press/heap the powder.
Step 4

Add the correct measure of powder to the water. Adding too many or too few scoops can be harmful. Place the sterilised teat and cap on the bottle and shake immediately, vertically and vigorously for at least 10 seconds until the powder is dissolved.
Step 5

Cool under running tap. Check temperature of feed. Feed immediately.
See our step by step video guide and practical bottle feeding articles for advice.
Age indication:
Suitable from birth
Legal name:
First Infant Milk
Name and address:

Nutricia Ltd,
White Horse Business Park,
Trowbridge,
Wiltshire,
BA14 0XQ
Net weight:
800g ℮
Store powder in a cool, dry place. Do not refrigerate. Use powder within 4 weeks of opening.

Get in touch with our Careline experts
Our midwives, nutritionists and feeding advisors are always on hand to talk about feeding your baby. Need instant assistance? Our WhatsApp Customer Support team is here to help on-the-go!
Breastfeeding is best. Infant formula is suitable from birth when babies are not breastfed. Follow On Milk is only for babies over 6 months, as part of a mixed diet and should not be used as a breastmilk substitute before 6 months. We advise that the use of formula milks and the decision to start weaning should be made only on the advice of a doctor, dietitian, pharmacist or other professional responsible for maternal and child care based on baby's individual needs.
Use Toddler Milk as part of a varied, balanced diet from 1 year.