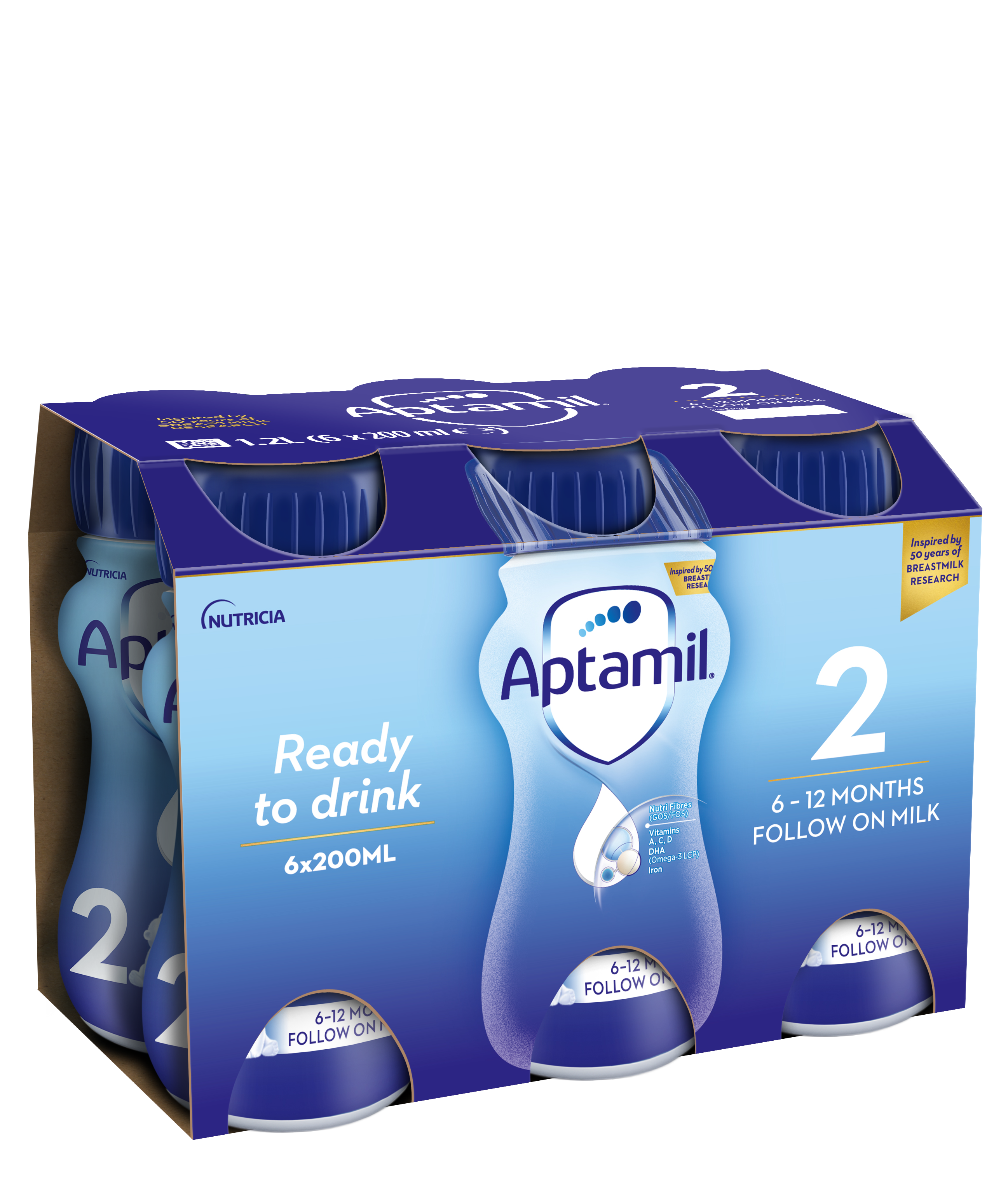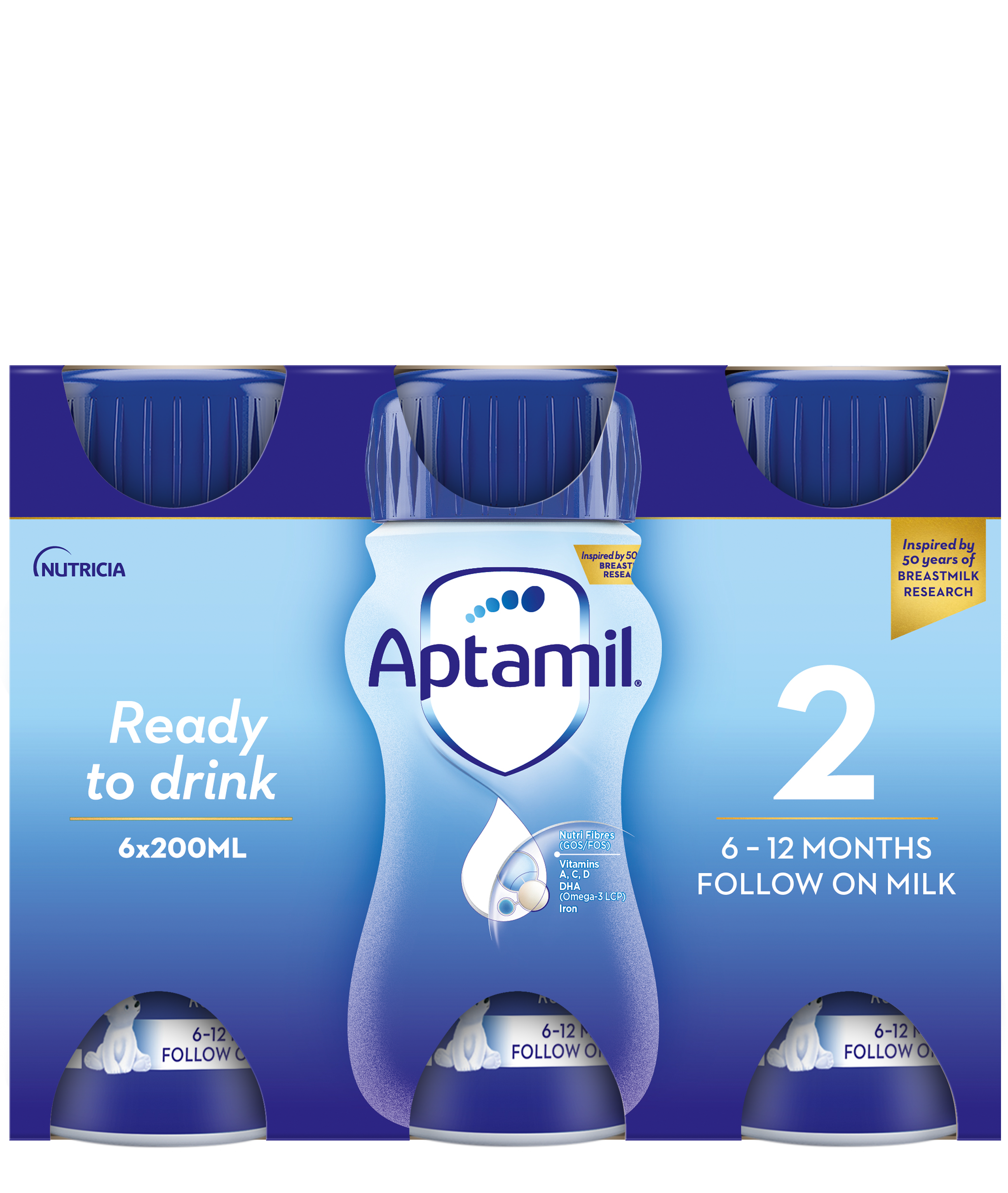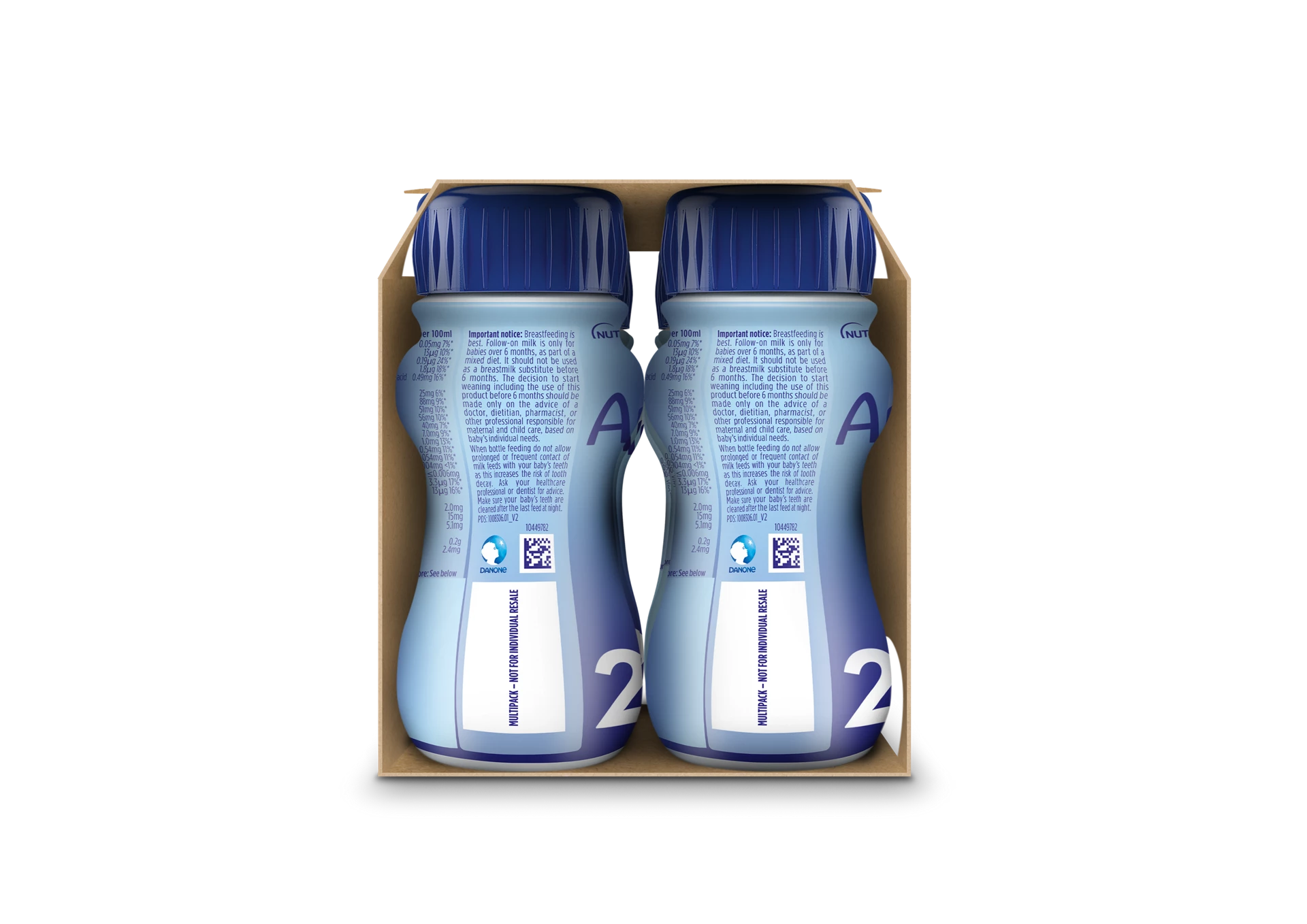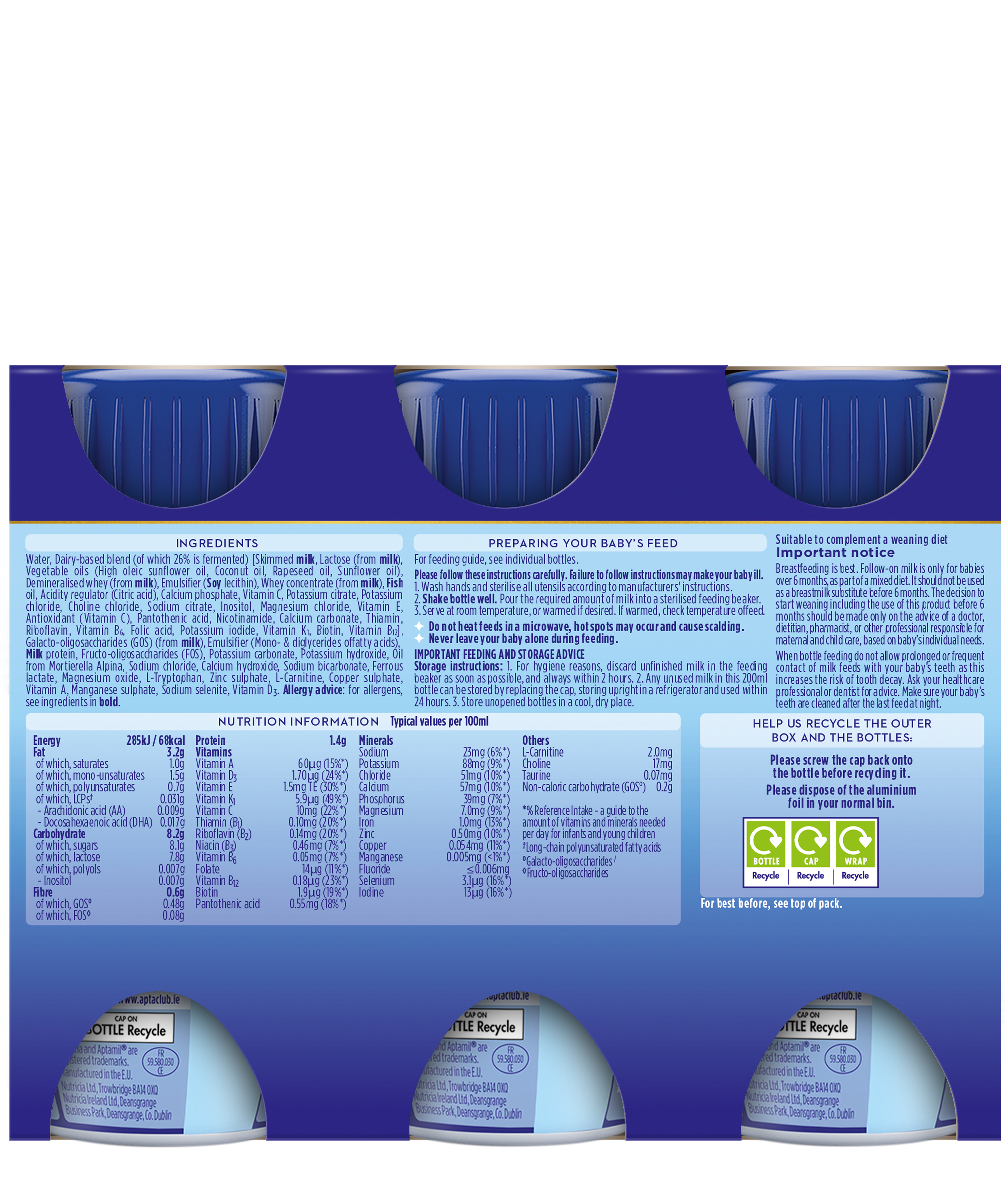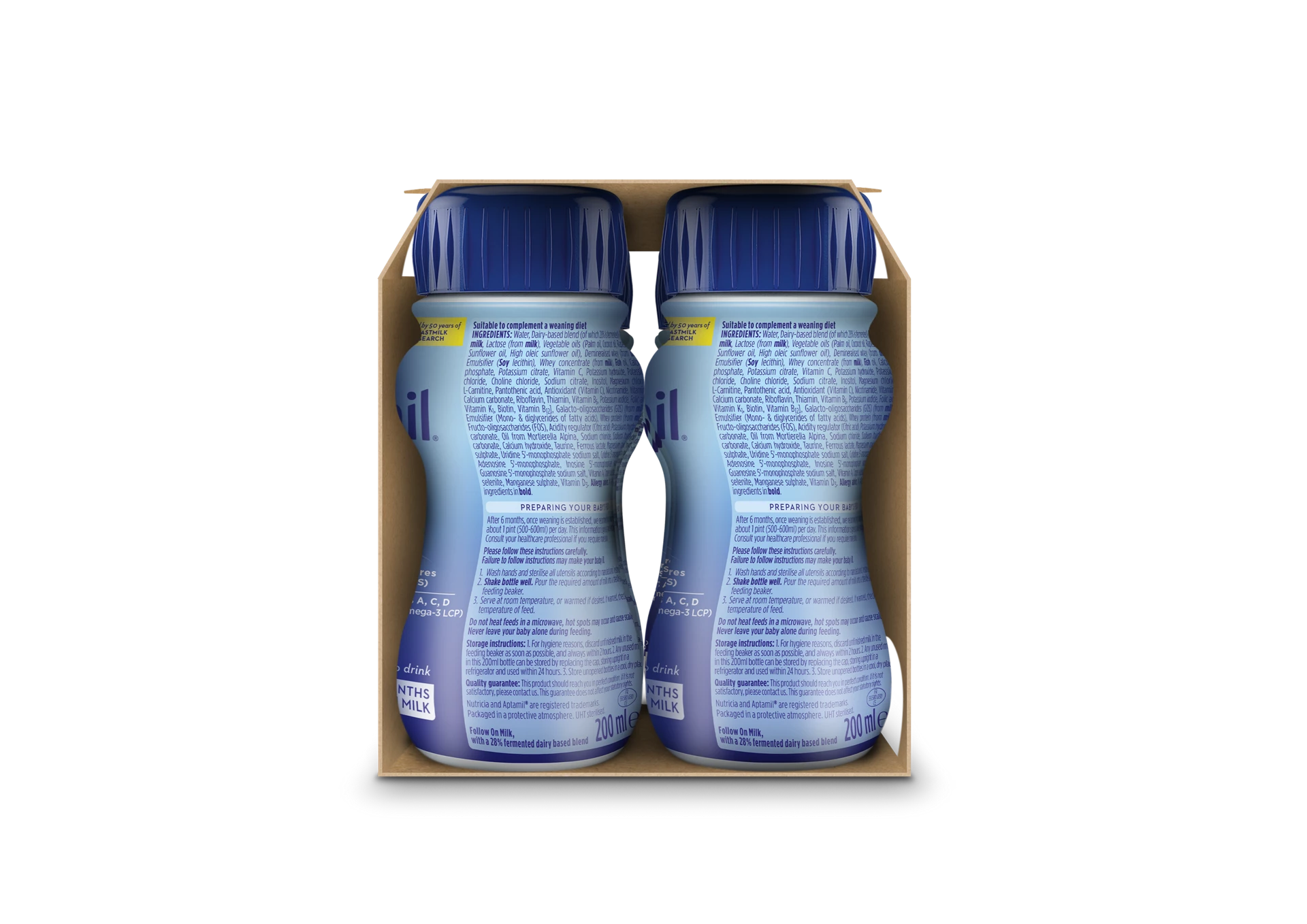 Aptamil® Follow On Milk Ready to Drink 6x200ml
Inspired by 50 years of breastmilk research, our team of Nutricia scientists have developed our next generation liquid formulation. Aptamil® Follow On Milk contains vitamins A, C & D and GOS/FOS*
It is tailored to complement a weaning diet from 6-12 months and contains Vitamin D to support the normal function of the immune system. 
*our unique blend of Galacto- and Fructo-oligosaccharides.
Water, Dairy-based blend (of which 28% is fermented) [Skimmed milk, Lactose (from milk), Vegetable oils (Palm oil, Coconut oil, Rapeseed oil, Sunflower oil, High oleic sunflower oil), Demineralised whey (from milk), Emulsifier (Soy lecithin), Whey concentrate (from milk), Fish oil, Calcium phosphate, Potassium citrate, Vitamin C, Potassium hydroxide, Potassium chloride, Choline chloride, Sodium citrate, Inositol, Magnesium chloride, L-Carnitine, Pantothenic acid, Antioxidant (Vitamin C), Nicotinamide, Vitamin E, Calcium carbonate, Riboflavin, Thiamin, Vitamin B6, Potassium iodide, Folic acid, Vitamin K1, Biotin, Vitamin B12], Galacto-oligosaccharides (GOS) (from milk), Emulsifier (Mono- & diglycerides of fatty acids), Whey protein (from milk), Fructo-oligosaccharides (FOS), Acidity regulator (Citric acid), Potassium hydrogen carbonate, Oil from Mortierella Alpina, Sodium chloride, Sodium hydrogen carbonate, Calcium hydroxide, Taurine, Ferrous lactate, Magnesium oxide, Zinc sulphate, Uridine 5'-monophosphate sodium salt, Cytidine 5'-monophosphate, Adenosine 5'-monophosphate, Inosine 5'-monophosphate sodium salt, Guanosine 5'-monophosphate sodium salt, Vitamin A, Copper sulphate, Sodium selenite, Manganese sulphate, Vitamin D3.
Allergy Advice: For allergens, see ingredients in bold.
Nutritional values

Typical values per 100ml

Energy

285kJ/68kcal

Fat

3.2g

of which, saturates

1.4g

of which, mono-unsaturates

1.2g

of which, polyunsaturates

0.7g

of which, LCPs††

0.031g

- Arachidonic acid (AA)

0.009g

- Docosahexaenoic acid (DHA)

0.017g

Carbohydrate

8.2g

of which, sugars

8.0g

of which, lactose

7.8g

of which, polyols

0.007g

- Inositol

0.007g

Fibre

0.6g

of which, GOS°

0.48g

of which, FOS◊

0.08g

Protein

1.4g

Vitamins

Vitamin A

60µg/15%*

Vitamin D3

1.7µg/24%*

Vitamin E

0.81mg TE/16%*

Vitamin K1

4.2µg/35%*

Vitamin C

10.2mg/23%*

Thiamin (B1)

0.05mg/10%*

Riboflavin (B2)

0.15mg/21%*

Riboflavin (B2)

0.46mg/7%*

Vitamin B6

0.05mg/7%*

Folate

13µg/10%*

Vitamin B12

0.19µg/24%*

Biotin

1.8µg/18%*

Pantothenic acid

0.49mg-16%*

Minerals

Sodium

25mg/6%*

Potassium

88mg/9%*

Chloride

51mg/10%*

Calcium

56mg/10%*

Phosphorus

40mg/7%*

Magnesium

7.0mg/9%*

Iron

1.0mg/13%*

Zinc

0.54mg/11%*

Copper

0.054mg/11%*

Manganese

0.004mg/<1%*

Fluoride

≤0.006mg

Selenium

3.3µg/17%*

Iodine

13µg/16%*

Others

L-Carnitine

2.0mg

Choline

15mg

Taurine

5.1mg

Non-caloric carbohydrate (GOS°)

0.2g

Nucleotides

2.4mg

§% Reference Intake - a guide to the amount of vitamins and minerals needed per day for infants and young children

†Long-chain polyunsaturated fatty acids

°Galacto-oligosaccharides / ◊Fructo-oligosaccharides
How to prepare Aptamil® Follow On Milk
 
Because powdered milks are not sterile, failure to follow instructions may make your baby ill.
Other products in this range

Get in touch with our Careline experts
Our midwives, nutritionists and feeding advisors are always on hand to talk about feeding your baby. Need instant assistance? Our WhatsApp Customer Support team is here to help on-the-go!
*a blend of Galacto- and Fructo-oligosaccharides.
Breastfeeding is best for babies. Infant formula is suitable from birth when babies are not breastfed. Follow-on milk is only for babies over 6 months, as part of a mixed diet and should not be used as a breastmilk substitute before 6 months. We advise that all formula milks including the decision to start weaning should be made on the advice of a doctor, midwife, health visitor, public health nurse, dietitian, pharmacist or other professional responsible for maternal and child care, based on baby's individual needs.
Do not use if your baby has been diagnosed with a cow's milk allergy.
Use Toddler Milk as part of a varied balanced diet from 1 year.