Constipation in babies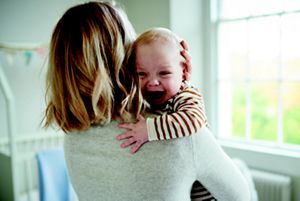 Daily struggles
What's causing your baby's constipation
Constipation in babies can occur from newborn onwards. In fact it's a common problem affecting up to 15% of infants1, thought to be related to their developing digestive system. Seeing your baby struggling with constipation can be really distressing, but don't panic, there are lots of ways to help relieve it.
Symptoms of constipation in babies
You'll usually be able to recognise if your baby has constipation because of the following symptoms2,3:
Delayed or infrequent passage (less than two per week) of small, dry, hard stools
Pain and straining on going to the toilet
Foul-smelling wind or stools
Excessive flatulence
Poor appetite
Lack of energy
Constipation is not a life-threatening condition, but it can become chronic if left untreated. So, if your baby is showing any signs of being constipated, you should talk to your health visitor, pharmacist or GP to prevent any persistent problems. If your baby is less than a year old, our Baby Symptom Checker is a useful way to capture your baby's symptoms for this discussion.
What causes constipation in babies?
There are a number of possible causes of constipation in infants2:
Dietary and fluid intake – if your baby is teething or unwell they may refuse food and drink, which can cause dehydration, leading to constipation.
Dietary change – your baby's digestive system is new, so adjusting to new foods can be difficult.
Organic causes – sometimes there can be a psychological cause like a small tear in the anal canal, called a fissure, causing your baby pain. To avoid the pain they will stop themselves going to the toilet.
Psychological factors – if babies get into the habit of withholding stools for any reason, it can become an acquired behaviour.
Generally breastfed babies are less likely to suffer with constipation than bottlefed babies, although some do. Fortunately most causes of constipation can be treated by making simple adjustments, which should prevent further problems.
If you want to talk to someone about baby constipation, our expert careline team are available 24 hours a day, 7 days a week.
FAQs about baby constipation
Q. Is my baby constipated?
A. See the section above relating to the symptoms of constipation. This will help you determine whether or not your baby is constipated. Ask your healthcare professional for advice if you are unsure.

Q. What should I give my constipated baby?
A. Cooled boiled water as a drink in between feeds can help alleviate symptoms. Further recommendations depend on whether they have been weaned or not. See more ways to help relieve constipation.

Q. Will giving my baby water help their constipation?
A. See answer above.

Q. Can teething cause constipation?
A. If your baby is teething they may not want to eat or drink as much as usual. This can cause dehydration, which can lead to constipation.
If you want to talk to someone about baby constipation, our expert careline team are available 24 hours a day, 7 days a week.

View references
1. Vandenplas Y et al. J Pediatr Gastroenterol Nutr 2015;61(5):531-7.
2. NICE. Constipation in children and young people: diagnosis and management [Online]. 2010. Available at: www.nice.org.uk/guidance/cg99 [Accessed: April 2016].
3. Hyman PE et al. Gastroenterology 2006;130:1519–26.

Last reviewed: 1st July 2016

Questions about feeding and nutrition?
Our midwives, nutritionists and feeding advisors are always on hand to talk about feeding your baby. So if you have a question, just get in touch.