How to tell if your baby is still hungry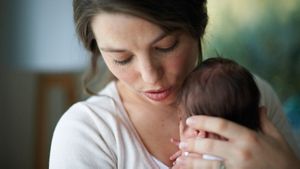 How to tell if your baby is still hungry
Running on empty
Signs your baby needs more milk
Knowing when your baby has had enough milk isn't always easy, especially if you are breastfeeding. The best way to meet your baby's needs is to get to know their cues and respond accordingly.
How to tell if your baby is still hungry
As your baby grows, so will their appetite, which can make it difficult to keep up with a feeding routine for long. At around 6 weeks of age, many babies go through a growth spurt which can mean they are hungrier for up to a week.
Too early to wean
Because an increased appetite is one of the first signs a baby is ready to wean, many mums wonder whether their hungry baby is in fact ready for solids. However, weaning is not recommended until around 6 months because up until then, your baby's digestive system is too immature for anything more than breast milk or infant formula1.
Is it really hunger?
In the early days, as you are establishing breastfeeding, it is important to feed your baby on demand and not worry about watching the clock. Many babies, both breast and formula fed, like to suck simply for comfort's sake, even if they're not hungry. Your baby is too young to differentiate between their need for food and their need for comfort. Demanding milk may actually be a request for comfort or attention, so if your baby seems to want something and you don't think they're hungry, try a cuddle instead.
Last reviewed: 28th July 2014

Questions about feeding and nutrition?
Our midwives, nutritionists and feeding advisors are always on hand to talk about feeding your baby. So if you have a question, just get in touch.