Expert Authors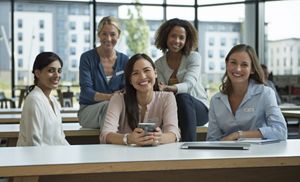 Medical and Scientific Affairs Team - About Us
The Medical and Scientific Affairs Team at Nutricia inspires change through science and partnerships, with the purpose of the team being to ensure:
The scientific credibility behind our products
Information provided to healthcare professionals and parents is reliable and accurate
The latest nutritional and scientific research is incorporated in the innovation of our products
Registered Dietitians, with experience including both clinical dietetics and experience in industry.

Registered Nutritionists including academic qualifications in Clinical & Public Health Nutrition, and Allergy and Immunology.

Scientists with backgrounds in Food Sciences, Pharmacology and Biomedical Sciences.
Dr Sarah Jarvis
Dr Sarah Jarvis, is a qualified GP and an active medical writer and broadcaster, with a lifelong interest in women's health.
Dr Bernd Stahl
Dr Bernd Stahl is an expert in breastfeeding and breast milk, and is currently the Director of Human Milk Research & Analytical Science at Danone Nutricia Research. For over 25 years, he has contributed significantly to the understanding of the benefits of breast milk and its impact on early life.
Dr Dawn Harper
Dr Dawn Harper is a registered NHS GP, television presenter and author. Her main areas of focus are women's health, fertility and obesity. She is regularly featured on television and radio shows as a medical expert, commenting on topical health stories, and writes for several magazines as well as writing her own medical books.
Dr Thomas Ludwig
Dr Thomas Ludwig is an expert in regurgitation, infant colic and constipation. He has worked for Danone Nutricia Research since 2009, and has also published over 50 scientific articles, reviews and book chapters.
Dr Caroline Childs
Dr Caroline Childs is a Registered Nutritionist and a lecturer in Nutritional Sciences at the University of Southampton. She is currently a member of the ILSI Europe Expert Group on Immune Competence and Co-Chair of ILSI Europe's Nutrition, Immunity and Inflammation Task Force.
Questions about feeding and nutrition?
Our midwives, nutritionists and feeding advisors are always on hand to talk about feeding your baby. So if you have a question, just get in touch.