Aptamil® Advanced
Aptamil® Advanced
Inspired by 50 years of breastmilk research, Aptamil Advanced Follow On Milk is Aptamil's most advanced formulation* and is suitable in combination with breastfeeding or for formula feeding. ​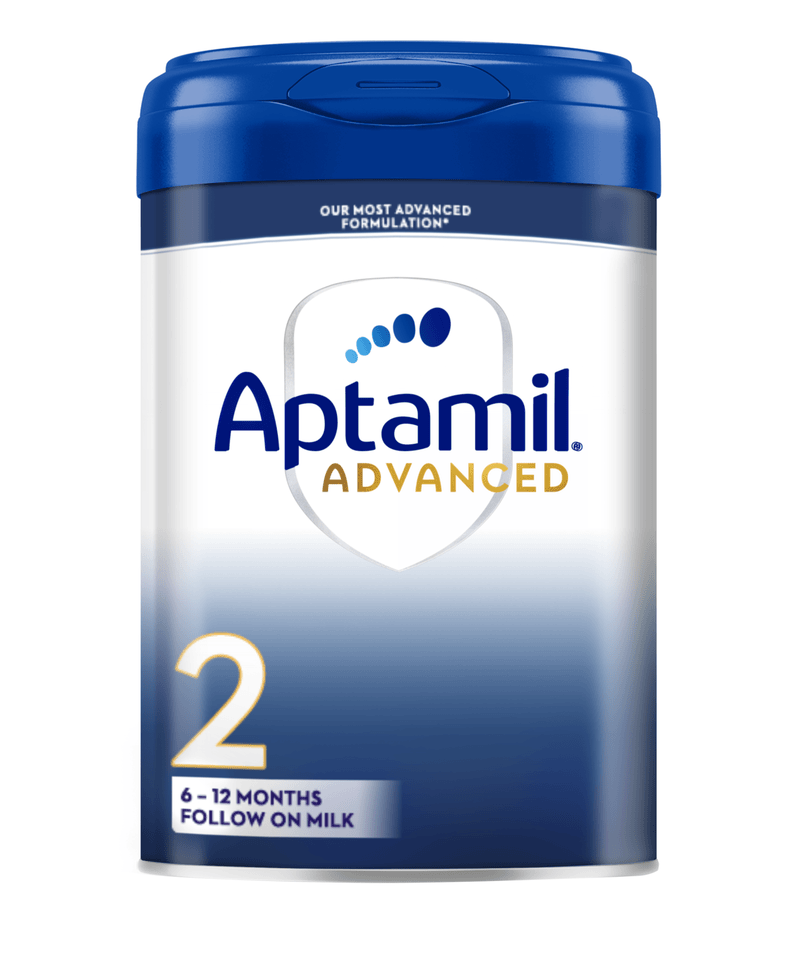 Product of the Year Winner

We are proud to say that our Aptamil Advanced Follow on Milk range won Product of the Year in the formula milk category
Contains our unique blend of GOS/FOS & 2FL**

Aptamil Advanced Follow on Milk is the only follow on milk in the UK with GOS & FOS & 2FL**
Contains Milk Fat 

Our Aptamil Advanced milks range contains milk fat to give it a creamy taste
Advanced First infant milks
Suitable from birth
Advanced Follow On milks
Suitable from 6 months +
Advanced Toddler milks
Suitable from 12 months +
Combination feeding
Aptamil® Advanced Milk is suitable in combination with breastfeeding or for formula feeding. For more information and advice on combination feeding, click here.
A pack designed for you
Our new range of Aptamil® Advanced baby and toddler milks are available in a fully recyclable tin.
- Triple safety seal to be sure your formula has not been opened and retains its freshness.
- Secure latch close for extra safety against contaminations and spills.
- Scoop storer to keep your scoop and hands out of the powder.
- Fully recyclable and made with 50% less plastic than our previous packaging.
Questions about feeding and nutrition?
Our midwives, nutritionists and feeding advisors are always on hand to talk about feeding your baby. So if you have a question, just get in touch.
Important notice

Breastfeeding is best. Infant formula is suitable from birth when babies are not breastfed. Follow On Milk is only for babies over 6 months, as part of a mixed diet and should not be used as a breastmilk substitute before 6 months. We advise that the use of formula milks and the decision to start weaning should be made only on the advice of a doctor, dietitian, pharmacist or other professional responsible for maternal and child care based on baby's individual needs. Use Toddler Milk as part of a varied, balanced diet from 1 year.
*With iron to support normal cognitive development.
**To verify contact us at Aptaclub.co.uk/ask-us. GOS/FOS and 2'FL – our unique blend of Galacto- and Fructo-oligosaccharides with 2'-Fucosyllactose.
No artificial preservatives as required by legislation.
Always follow preparation instructions.
2023 Winner of the Formula Milk Category. Survey of 8,000 people by Kantar.
IRI All Outlets incl Chemists, 12 w/e CWD Weighted Distribution and Store Count Where Scanned data to 18th February 2023.