Colic in babies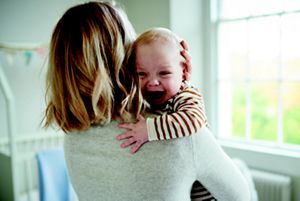 Hush little baby
Causes and symptoms of colic
Inconsolable crying and gas after feeds can be signs of colic, which is a common problem in otherwise healthy, thriving infants. Colic used to be defined as unexplained crying for three or more hours per day, at least three days per week, for at least a week1. However, experts have now agreed that this is too rigid and have changed the definition to 'recurrent or prolonged periods of crying, fussing or irritability' without an obvious cause and that can't be prevented or resolved2. While no one knows the exact cause of it, it's thought to be related to your baby's developing digestive system. The good news is there are ways you can spot it and try to comfort them.
Dealing with colic in babies
Watch our short video for tips and advice to help you comfort your colicky baby.
Infant colic
Colic is a common problem that affects up to one in five babies2, both bottle and breastfed. While seeing your baby in such discomfort can be really distressing, it's reassuring to know that having colic doesn't mean they're unwell or that you're doing something wrong.
Swallowing excess air during feeding – as your baby swallows, their tiny tummy fills up with air causing painful gas3
Developing digestive system – your baby is new to feeding, and they may not be able to fully digest their milk4
A response to something in their milk – your baby may develop a temporary gut sensitivity to certain proteins and sugars found in breast milk or formula milk4,5
Despite the fact that further research is required in order to fully understand what causes colic, there are still simple ways to spot it and treat it in your baby.
Colic symptoms

The symptoms of colic are distinctive and often occur soon after feeding and late in the afternoon and evening. At other times your baby may seem happy and content.
Intense crying, usually for several hours5
Drawing knees up to tummy5
Lots of parents find it difficult to cope with the stress and exhaustion that colic can bring, and it can put pressure on other areas of their lives. Our careline professionals are on hand 24 hours a day, 7 days a week if you need to talk to someone about it.
There are a few treatment options available that can help to ease the symptoms. By four months your baby's colic will probably have stopped, though it can carry on up to six months. While it can be difficult to manage at the time, there is no evidence that colic has any long-term effect on your baby's health5.
Colic treatment
If your baby has any of the symptoms of colic, it's important that you talk to your health visitor, pharmacist or GP. It might be a good idea to keep a note of how often your baby is crying and the amount of time between feeding and the onset of symptoms. They will then be able to determine whether your baby is suffering from colic and let you know the options available to you. If your baby is less than a year old, our Baby Symptom Checker is a useful way to capture your baby's symptoms for this discussion, and it offers lots of practical advice too.
NEXT STEPS
Check your baby's symptoms match those listed above
If your baby is less than a year old, the Baby Symptom Checker can be used to make a note of their symptoms.
Take a look at the treatments and solutions for colic
Talk to your health visitor, local pharmacist, or book an appointment with your GP
View references
1. Hyman PE et al. Gastroenterology 2006;130:1519–26.
2. Vandenplas Y et al. J Pediatr Gastroenterol Nutr 2015;61(5):531-7.
3. NCT. Coping with colic symptoms in babies [Online]. 2012. Available at: www.nct.org.uk/parenting/coping-colic [Accessed: October 2015].
4. Cirgin Ellett ML. Gastroenterol Nurs 2003;26(2):60-5.
5. NHS Choices. Colic [Online]. 2014. Available at: www.nhs.uk/Conditions/Colic/Pages/Introduction.aspx [Accessed: September 2015].

Last reviewed: 1st July 2016

Questions about feeding and nutrition?
Our midwives, nutritionists and feeding advisors are always on hand to talk about feeding your baby. So if you have a question, just get in touch.