Aptamil® Cereals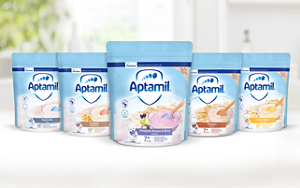 Precautionary recall of some batches of Aptamil Multigrain & Fruit Bircher Muesli and Aptamil Oats, Raisin & Apple Bircher Muesli
 
Product Recall Notice
Exciting recipes for your little one. 
Our tasty range of baby cereals are the perfect way to introduce delicious new tastes and textures to your little one's diet. Our recipes with grains and fruit contain no added salt and only naturally occurring sugars.
Created by our team of feeding experts, each delicious recipe contains specific nutrients tailored to be a part of a baby's varied and balanced diet, including iron to support normal cognitive development, as well as Vitamins A, C & D.
Unsure how to start weaning?
Read our expert guide
Our expert weaning guide will help you understand the signs your baby is ready and what foods you should introduce for a balanced diet.
Introduction to weaning
Questions about feeding and nutrition?
Our midwives, nutritionists and feeding advisors are always on hand to talk about feeding your baby. So if you have a question, just get in touch.
Quality, assured
We are devoted to providing you & your baby our very best.
Our Nutricia factories don't produce for any supermarket own label or own brand products.

Find out more about our commitments to high quality
Important notice
Breastfeeding is best for babies. Infant formula is suitable from birth when babies are not breastfed. Follow-on milk is only for babies over 6 months, as part of a mixed diet and should not be used as a breastmilk substitute before 6 months. We advise that all formula milks including the decision to start weaning should be made on the advice of a doctor, midwife, health visitor, public health nurse, dietitian, pharmacist or other professional responsible for maternal and child care, based on baby's individual needs.
Breastfeeding is recommended for the first 6 months of life. The Department of Health recommend weaning at around 6 months. Please speak with a healthcare professional before introducing solid foods.
Do not use if your baby has been diagnosed with cow's milk allergy.
Use Growing Up milk as part of a varied balanced diet from 1 year.