Baby nutrition: Our cereal range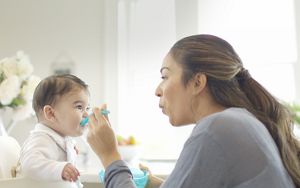 Baby nutrition: Our cereal range
TAILOR MADE
Expertise in every spoonful
Weaning is an exciting developmental milestone, but it can be hard to know where to begin. As experts in early life nutrition, we understand exactly what your baby needs to nourish them at every stage. It's reassuring to know that every spoonful of our unique nutritionally tailored range of baby cereals is inspired by 40 years of research.

The Department of Health recommends you wait until your baby is 6 months old before weaning.
Did you know that chewing lumpier foods helps your baby build the muscles they'll eventually need for speech?
The recommended iron intake for 6-month-old is about half that of a 30-year-old man
Explore our cereals range
Questions about feeding and nutrition?
Our midwives, nutritionists and feeding advisors are always on hand to talk about feeding your baby. So if you have a question, just get in touch.