Aptamil® Profutura® range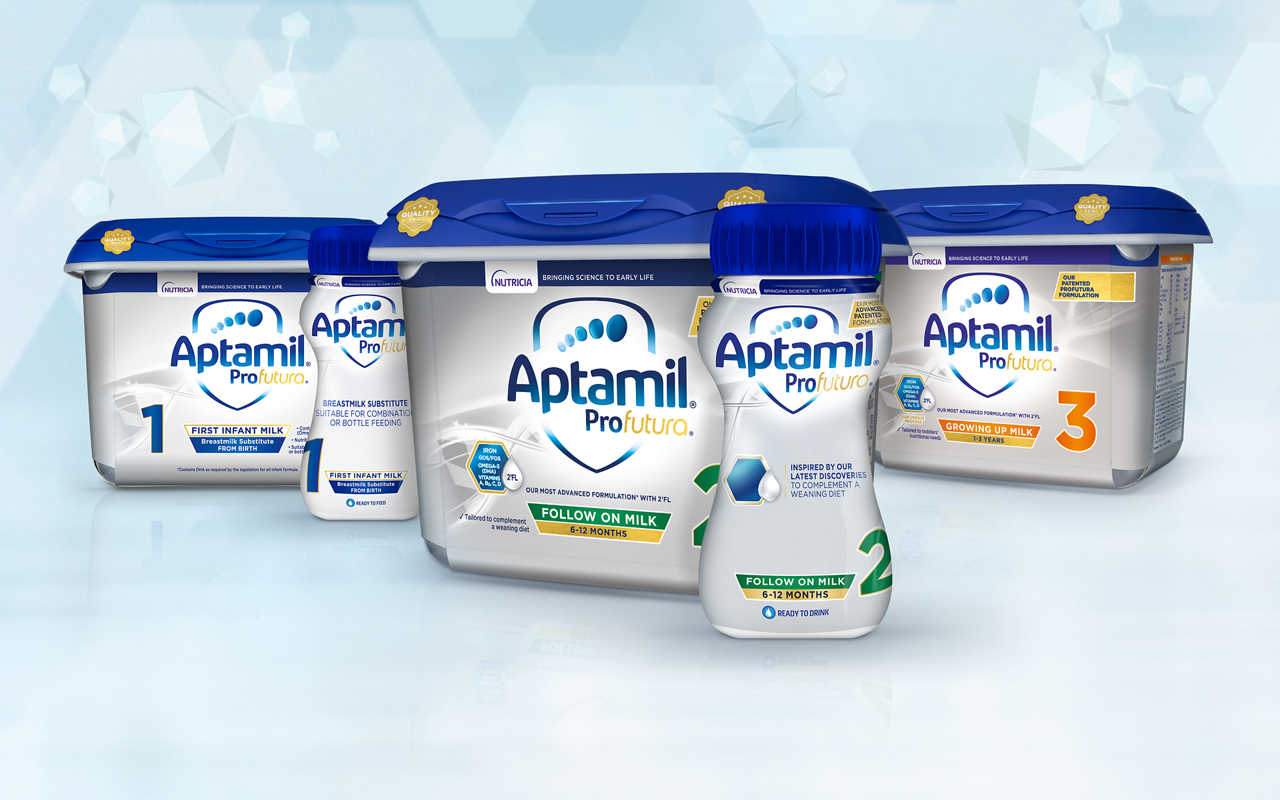 Aptamil® Profutura® range
Inspired by 40 years of research in early life science, our Aptamil® Profutura® range of milks is suitable from birth to 3 years.
Inspired by 40 years of research
Our globally renowned scientists have been dedicated to research for 40 years. Our discoveries led us to develop our most recently updated Aptamil® Profutura® .
Our most innovative design yet
We apply the same scientific approach to our packaging as we do to our formulas. The result? An innovative and intuitive design developed side-by-side with parents like you.
Practical:
A precise scoop
Easier scoop levelling, whether you're left- or right-handed
Hygienic:
Wider opening and handy scoop holder minimises contact with the powder
Secure:
Tamper-evident seal and inner foil
Secure outer locking system
Recyclable:
Our packs are fully recyclable and can be recycled in one piece. Please place the scoop inside the box and close so that this can be recycled as well.

Your baby's Aptamil® Profutura® journey
**To verify contact us at aptaclub.co.uk/ask-us. GOS/FOS and 2'FL - our blend of Galacto- and Fructo-oligosaccharides with 2'-Fucosyllactose.

Interested in your baby's incredible developments?
Read about your baby's month-by-month developments and get expert baby advice and support.

EXPLORE OUR BABY ARTICLES
Questions about feeding and nutrition?
Our midwives, nutritionists and feeding advisors are always on hand to talk about feeding your baby. So if you have a question, just get in touch.
Quality guarantee
We are devoted to providing you & your baby our very best. We do not produce for any supermarket own-label brands.
Find out more about our commitments to high quality
Important notice
Breastfeeding is best. Infant formula is suitable from birth when babies are not breastfed. Follow-on milk is only for babies over 6 months, as part of a mixed diet and should not be used as a breastmilk substitute before 6 months. We advise that the use of formula milks and the decision to start weaning should be made only on the advice of a doctor, dietitian, pharmacist or other professional responsible for maternal and child care based on baby's individual needs.
Use Growing Up milk as part of a varied, balanced diet from 1 year.