How to help a constipated baby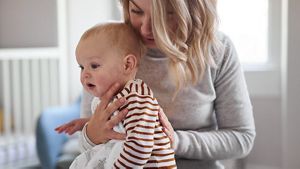 How to help a constipated baby
Constipation in babies is thought to be a common symptom of a developing digestive system, but that doesn't always necessarily mean it will resolve itself.
Constipation in babies

Constipation in babies is often linked to diet or fluid intake and may sometimes be a result of a family history of constipation1. You should always talk to your health visitor, pharmacist or GP if your baby is showing signs that they are constipated. This will ensure they get a correct diagnosis and, if they are suffering from constipation, you get the necessary advice to manage it.

Constipation treatment will depend on its severity, which your healthcare professional can assess. However, there are a few practical tips you can try to ease the symptoms – these vary depending on whether your baby has been weaned or not.
Relieving Constipation in babies
Gently move your baby's legs in a bicycling motion.
Carefully massage their tummy to help stimulate their bowels2.
If you are breastfeeding
Constipation is rare in babies that are breast-fed, however it does happen. Consider talking to a healthcare professional to explore potential causes.3
Exclusively breastfed babies don't need any water until they've started consuming solid foods.4
If you are formula-feeding
Try giving additional cooled, boiled water between normal feeds.2
Make sure feeds are made up according to manufacturer's instructions.
Speak to your health visitor, pharmacist or GP about other nutritional solutions available for the dietary management of constipation.
For weaned babies
Give them plenty of water with and between meals and try sitting with them to make sure they drink it2.
Never force them to eat food they don't way to - it may turn into a negative experience for them.
Encourage them to eat fruit and vegetables. This can boost their fibre intake which will help to support a healthy digestive system.5
Baby massages for constipation
Giving your baby a tummy massage can help to ease their discomfort and stimulate their digestive system, helping to prevent constipation and get rid of trapped wind. When giving your baby a tummy massage for constipation, it's important to remember to work in a clockwise direction, making sure all strokes are on their tummy and not their ribcage, and to lighten the pressure when you stroke over their bladder.
An easy massage technique to help relieve baby constipation is to gently use your fingertips to stroke a large, circular motion around their tummy to soothe them.6
Persevering with constipation treatment
It's really important that you find a solution that offers constipation relief for your baby, as the longer your child is affected, the longer it may take for the bowel habits to return to normal.7 Speak to your health visitor, pharmacist or GP for more information on nutritional solutions available.
Remember, if you need to talk to somebody about your baby's constipation, our expert careline team are available 24 hours a day, 7 days a week for support.
Next steps
Talk to your health visitor, pharmacist or GP about the best constipation remedies for your baby.
Start the constipation treatment as soon as possible and see if it has a positive effect on symptoms.
Keep your health visitor up to date.
Questions about feeding and nutrition?
Our midwives, nutritionists and feeding advisors are always on hand to talk about feeding your baby. So if you have a question, just get in touch.
Constipation relief for babies