How to get a cows' milk allergy diagnosis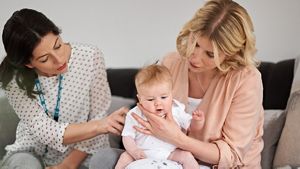 How to get a cows' milk allergy diagnosis
Summary
If you suspect your baby has cows' milk allergy (CMA), it's important you get a diagnosis from your doctor before making any significant changes to their diet. Learn how you can aid diagnosis by recognising and recording your baby's symptoms.
What to do if you think your baby may have cows' milk allergy
If your baby seems to have an adverse reaction after breastfeeding, bottlefeeding, or eating foods containing dairy, they may have cows' milk allergy (CMA).
CMA affects a small number of babies under the age of one. Unfortunately, the symptoms can be difficult to spot, as they are similar to those of other medical conditions. So, if you think your baby may have CMA, you should talk to your doctor about it.
Note for pregnant mums
If you suffer from allergies, and are concerned that your baby may be born with allergic tendencies too, the following information can help you feel prepared, should your baby have CMA.
What to take with you when you visit your HCP
Your baby's doctor will want to know about any history of allergies in your family and the symptoms your baby has that are concerning you. If, for example, your baby comes out in a rash after feeding, take a photo of the rash and write down how long it takes to appear and how long it lasts. Likewise, if they vomit or have diarrhoea, stomach cramps or constipation, after eating, drinking or other activities, write it down. The more evidence and information you can provide, the better.
Recording symptoms can help speed up diagnosis
Keeping a record of your baby's symptoms will help their doctor understand what's going on and recognise any reoccurring patterns.
Why self-diagnosis is not recommended
CMA is fairly uncommon and the symptoms can be difficult to identify immediately. In many cases, repeated trips to the doctor are required before a diagnosis is made. With this in mind, it's important that you don't self-prescribe or make any significant changes to your baby's diet without their doctor's consent.
Questions about feeding and nutrition?
Our midwives, nutritionists and feeding advisors are always on hand to talk about feeding your baby. So if you have a question, just get in touch.
Cows milk allergy diagnosis